Asheville Eye LASIK is a vision correction surgery care facility serving residents of Western North Carolina. At our facility, our primary focus is to deliver the highest quality of personalized vision correction surgery care to all of our patients. Using innovative techniques and technology, our experience and highly-trained physicians provide several procedures and treatment options for a personalized surgery experience. At our locations, patients are made to feel comfortable and relaxed in our state-of-the-art facilities. We understand the importance of your vision, which is why we make it a priority to provide exceptional results for our patients to allow them improved sight and an enhanced quality of life.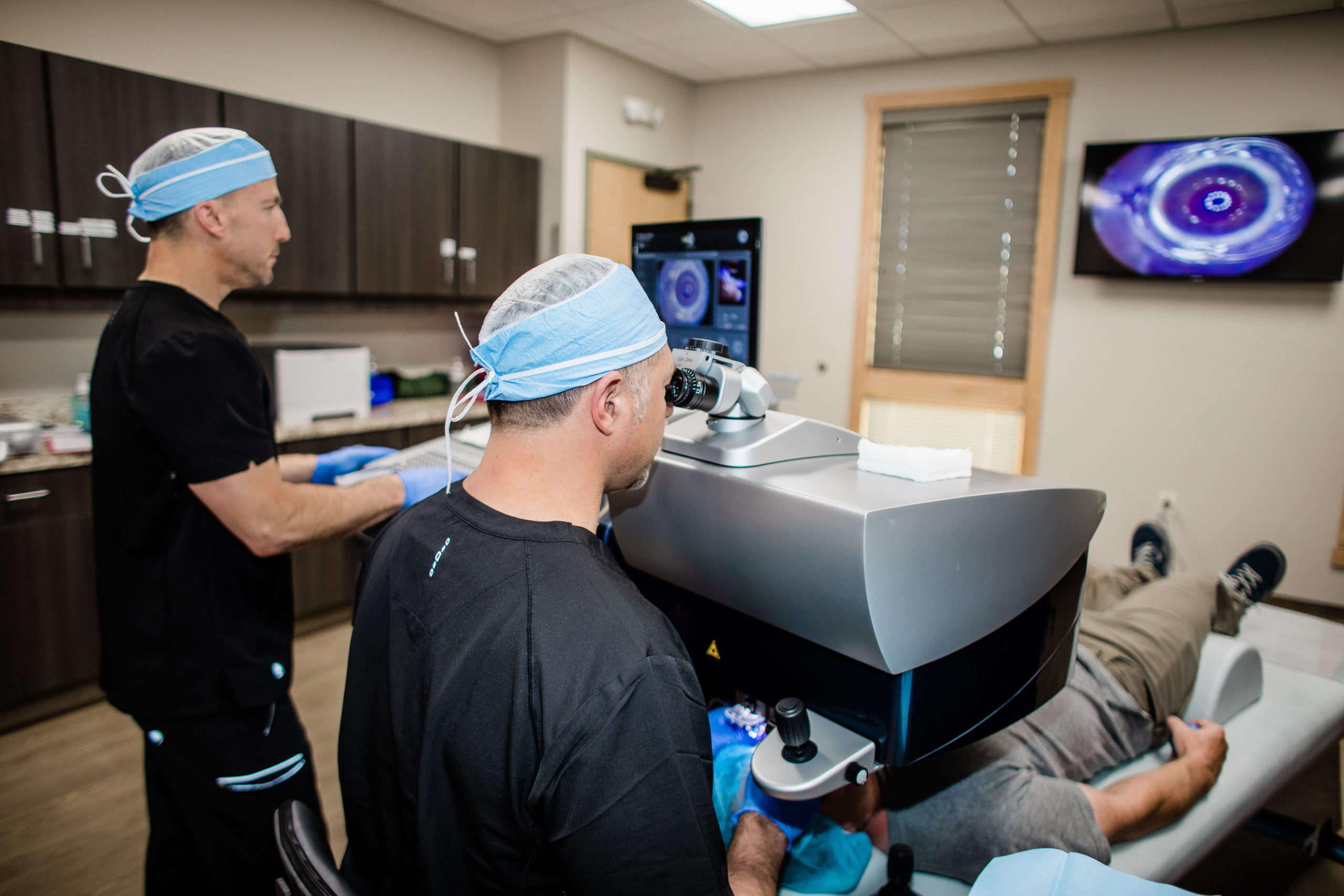 Our Mission:
Asheville Eye LASIK is dedicated to enhancing our patients' quality of life by improving their vision utilizing the most innovative technology and leading medical care in a warm, personal, and compassionate environment.
Our Vision:
We are dedicated to meeting all your vision correction surgical needs. With convenient locations, our doctors provide you with the best state-of-the-art eye surgical correction care in the region.
Our Values:
We consider our patients an extension of family and it shows in our compassion and continuing efforts to provide the best possible care for all that enter through our doors.
Laser Vision Correction Procedures
BLADELESS LASIK
Imagine waking up and seeing your alarm clock, sports activities, or going about each day without the hassle of contact lens or glasses. Imagine a world that you can fully see, all the time.
"Refractive surgery" is the term used to describe surgical procedures that correct common vision problems to reduce dependence on prescription eyeglasses and/or contact lenses.
LASIK (LAY-sick) is the most popular refractive surgery performed in the world and has been helping people eliminate the need for glasses for more than 25 years.
WHAT IS LASIK?
LASIK, or "laser-assisted in situ keratomileusis" is the most commonly performed laser eye surgery in the world to treat myopia (nearsightedness), hyperopia (farsightedness) and astigmatism.
Like other types of refractive surgery, the LASIK procedure reshapes the cornea to enable light entering the eye to be properly focused onto the retina for clearer vision.
People opt for LASIK with our providers because:
LASIK is the most popular elective procedure in the world and over 32 million people worldwide owe their clear vision to LASIK.

It has been successfully used to correct vision since 1991.

LASIK is one of the most precise medical procedures performed today and has been subjected to rigorous safety testing.

Our providers use the most advanced LASIK technology in the world – the Alcon Wavelight excimer and femtosecond system.

LASIK surgery requires only topical anesthetic drops, and you see better almost immediately
PRK
There are many different types of laser vision correction and depending on the severity or condition of your eyes, LASIK eye surgery may not be the best solution.
Often, if an individual has a corneal distortion, PRK may be a more beneficial procedure than LASIK. The PRK procedure was in fact the first type of laser eye surgery for vision correction and is the predecessor to the popular LASIK procedure everyone has come to know. Like the LASIK procedure, PRK reshapes the cornea to correct one's vision by using an excimer laser. The procedures differ in the preparation of the cornea prior to the excimer laser treatment. PRK is often an optimal approach for a number of reasons.
WHAT'S THE DIFFERENCE?
PRK involves removing the surface cells on the cornea (the epithelium), instead of creating a corneal flap. In the PRK procedure, the cells on the surface of your cornea are removed to reshape your cornea.

PRK does offer some distinct benefits. Because the PRK procedure does not create a corneal flap, the entire thickness of the underlying stroma is available for treatment.

PRK is ideal if you have corneal distortions and do not qualify for LASIK.

Though PRK recovery can take a bit longer than recovery from LASIK eye surgery, PRK is still commonly performed and offers advantages over LASIK for some patients.
PRK OR LASIK?
So which procedure is right for you? Your doctor will review all of your medical history and vision conditions at the consultation, and advise you of your candidacy, surgical options, and his recommendation of what would be best for you.
WHAT TO EXPECT ON SURGERY DAY: 
You will arrive at the clinic about a half-hour prior to your procedure. Once you have been checked in you may be offered a sedative to help you relax. You will then be prepared for surgery. The area around your eyes will be cleaned and a sterile drape may be applied around your eye. Anesthetic eye drops will be used to numb your eyes; no injections or needles will be used. When your eye is completely numb, an eyelid holder will be placed between your eyelids to keep you from blinking during the procedure. The area around your eyes will be cleaned and a sterile drape may be applied around your eye.
Following your procedure, your eye(s) will be examined with a slit lamp microscope. Then you will be given additional eye drops, and your eyes may be shielded for protection. Your vision will probably be a little blurry at first, so someone will need to drive you home. You should relax for the rest of the day. You may experience some discomfort for 12 to 24 hours, but this is usually alleviated with an over-the-counter pain reliever. Some people experience sensitivity to light, and watering or swelling of their eyes for a few days following their procedure.
You will be asked to come back the next day for another examination of your eye(s). Most people can actually see well enough to drive the next day but it's best not to drive until you have been examined. You should be able to resume most normal activities the day after surgery.
Vision can fluctuate for up to six months, but most people can see well enough to pass a driver's license vision exam following their procedure.
REALISTIC EXPECTATIONS:
The decision to have LASIK is an important one that only you can make. The goal of any refractive surgical procedure is to reduce your dependence on corrective lenses. However, we cannot guarantee you will have the results you desire. The vast majority of our patients are extremely happy with their vision after LASIK and can do most activities without dependence on corrective lenses.
Serious complications with LASIK are extremely rare. LASIK is a safe, effective, and permanent procedure, but like any surgical procedure, it does have some risks. Many of the risks and complications associated with this procedure can be reduced or eliminated through careful patient selection and thorough pre-operative testing using the latest diagnostic technology.
After LASIK, you may experience some visual side effects. These visual side effects are usually mild and diminish over time. But there is a slight chance that some of these side effects won't go away completely, such as feelings of dryness, glare, and halos.
Since everyone heals somewhat differently, some patients may over react to the procedure and some may under react resulting in overcorrections and undercorrections. Once the eye has stablized (3 to 6 months) you and your doctor can discuss whether a re-treatment could help fine tune your vision if you are over or under corrected.
After a thorough eye exam, you and your doctor will determine if LASIK is an option for you. If you are a good candidate, you will be given additional information about the procedure that will allow you to make an informed decision about whether to proceed. Be sure you have all your questions answered to your satisfaction.